Lascaux Gouache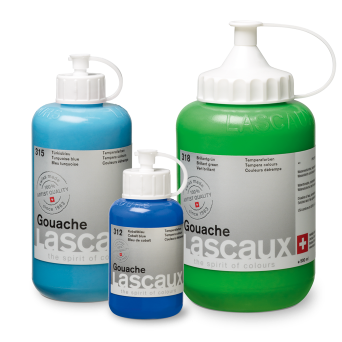 The colour palette includes the following hues:
Lascaux Gouache is a highly concentrated acrylic-modified tempera paint. Thanks to its purity and brilliance it is suitable for professional use in art, design and education.
Lascaux Gouache is thoroughly opaque, of maximum lightfastness and luminance, and yields great colour depth. With their thick and smooth consistency, these colours need to be diluted with water before use. Even highly diluted Lascaux Gouache colours will retain their brilliance and intensity.
All hues dry to form a water-soluble film. A previous layer can be painted over without being dissolved by the fresh application. Lascaux Gouache shows excellent adhesion on almost any absorbent surface and dries to yield a satin matt finish. The colour palette remains constant and comprises 34 well-balanced hues, including silver and gold, and three primary colours.
Properties
viscous and highly yielding (dilution with water is recommended)

luminous, with high opacity
consistent satin matt finish
excellent miscibility

can be partially dissolved after drying
can be painted over without dissolving previous layers

lightfast, age-resistant and non-yellowing

adheres on almost every substrate
carefully balanced, constant colour palette
Use & application
art and design

art therapy

education and art class
also suitable for screen printing
Product leaflet (pdf)
Lascaux Gouache colour palette and information