Lascaux Perlacryl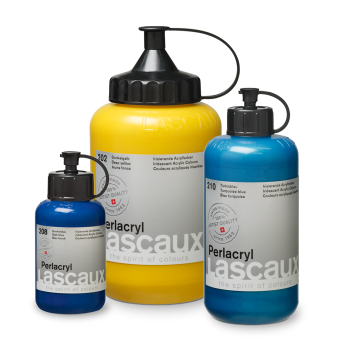 The colour palette includes the following hues:
Lascaux Perlacryl are distinguished by their deep iridescent lustre. These 16 highly pigmented colours dry to form a semi-matt finish.
Lascaux Perlacryl colours combine an outstanding luminance with a deep pearlescent effect. All 16 hues are highly pigmented, semi-opaque and intense.
They dry to form a satin matt, water-resistant film with excellent adhesion.
Perlacryl colours provide unusual and exquisite effects making them the colours of choice for design and decoration. Due to their pigments they retain their excellent lightfastness only in the interior – with the exception of the pearl white hue. Lascaux Perlacryl is not suited for outdoor applications.
Properties
iridescent, pearlescent effects
satin finish with intensive lustre
water-resistant and resilient
excellent adhesion
elastic, firm and block resistant
lightfast and age-resistant
Use & application
for all painting techniques, including airbrush
pearlescent lustre can be varied through dilution
architecture, interior design and murals
design and decoration
Product leaflet (pdf)
Lascaux Perlacryl colour palette and information