Lascaux Aquacryl ™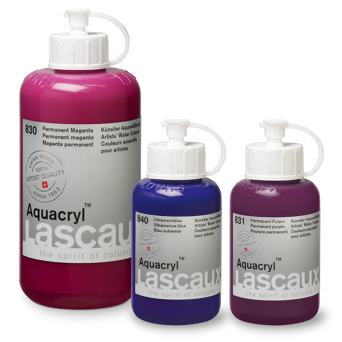 The colour palette includes the following hues:
This highly concentrated transparent watercolour comprising 24 luminous hues is equally suited for classical watercolouring and for large-scale glazings.
Lascaux Aquacryl colours combine the best of two worlds: they perform like an acrylic paint, while they yet are as transparent and light as watercolours. Lascaux Aquacryl is a state-of-the-art formulation of the classic watercolour; suitable not only for the traditional watercolour technique but also for luminous glazes on large formats. No matter which the concentration, it dries to yield a velvety matt finish, durably preserving the richness and intensity of the colour. Lascaux Aquacryl is water-soluble; thin applications can be painted over without being dissolved by subsequent layers.
Properties
fluid, transparent and luminous
highly pigmented and economical
matt finish
excellent miscibility
can be partially dissolved for washes

can be painted over without dissolving previously applied layers
lightfast, age-resistant and non-yellowing
carefully balanced, constant colour palette
Use & application
watercolour techniques and airbrush

art and decoration
ideal for murals, particularly glazes

Product leaflet (pdf)
Lascaux Aquacryl colour palette and information
Video Lascaux AquacrylGenerous water colouring with Aquacryl

Wandgemälde "Northern Sky & Southern Sky"