Lascaux – the spirit of colours – is a film in three sequences, dedicated to the future-focused values essential to the Lascaux products:
VISION – PRIMAL FORCE – QUALITY. With Barbara Diethelm, company owner and painter. Filmed at natural sites in Switzerland and inside Patumbah Mansion in Zurich.



VISION
Lascaux company portrait
What does the name Lascaux mean to you? Lascaux is evocative of a pioneering spirit, whether you go back 26 000 years, to the primeval force inherent in the cave paintings of Lascaux, or just half a century to Alois K. Diethelms pioneering work with acrylic paints. Lascaux products, meanwhile, have become firmly established in artistic as well as restoration circles.
Barbara Diethelm proudly presents this profile of her company, which offers a fascinating insight into the world of Lascaux -- a world firmly committed to colours.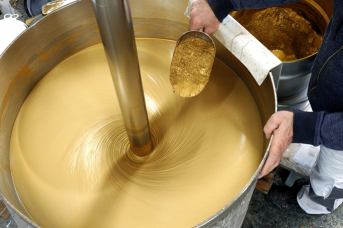 Premium quality colours – authentic and true to life
Following this motto we offer individuals who apply colours in their lives unique possibilities for expression. The quality of our products is on a reliably high level. Our colours are conceived to radiate brightly even years after they have been applied, and working with them is meant to be a pleasure at all times.
Therefore our colour assortments and painting aides have remained unchanged for such a long time. We wish to supply our customers with the same product over many years. This is essential for artists, colour designers, art therapists and all others who apply colour in their daily aesthetic practice.

Careful craftmanship, observance and strict quality controls ensure that every product leaving our premises will satisfy the highest demands. Lascaux colours and painting aides are ageless premium products that meet the highest artistic and ecological criteria, and as such are by definition sustainable.
International trademarks owned by Lascaux are: Sirius®, Resonance®, Aquacryl™, Jun Funori®, Lascaux the spirit of colours®, The spirit of colours
in the body of architecture®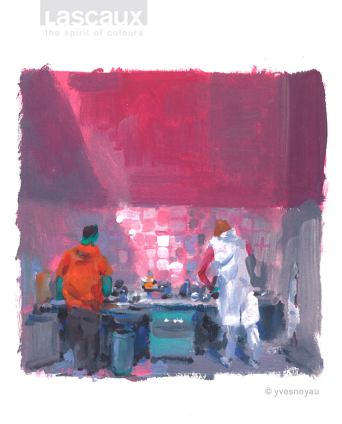 Let colours speak
In 2008, the Swiss illustrator and artist Yves Nussbaum (Noyau) captured the Lascaux working day on site in his expressive pictures painted with gouache colours. These have not lost their relevance to this day, as the quality of our manufacturing processes has not changed since then. These expressive illustrations accompany this series on Lascaux, in which we explain our values, our philosophy, and our work.
With Heart and Hand
Did you know that with Lascaux colours, a single hue can consist of up to 20 different ingredients? And that within a colour line, each hue has its own formula?
Impulses from artists inspire and guide us in the development of our products. In our laboratory, the heart of our company, Lascaux colours and painting mediums are developed, researched and tested for practical use under a wide variety of conditions. In this way, the world-renowned, reliably high quality of all Lascaux products is ensured.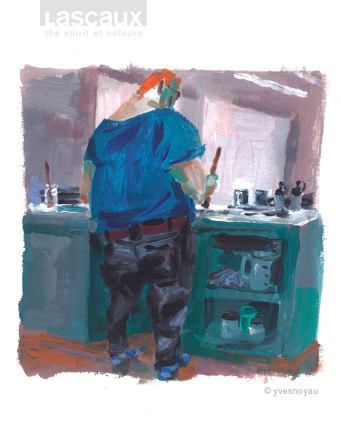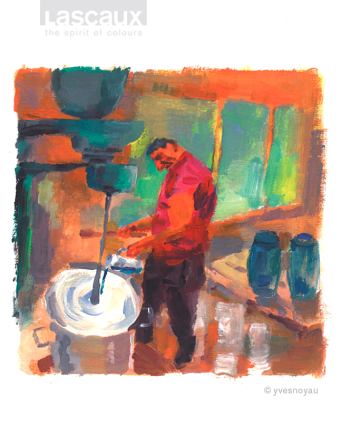 Paint manufacturer since 1963
Since the development and distribution of the first artist acrylic paint line on the European continent by the company founder Alois K. Diethelm, Lascaux has been producing in Switzerland – a manufacturer in the true sense of the word.
At Lascaux, people work, not machines. In order to produce colours and painting materials of premium quality, it takes good intuition for materials and years of experience.
In the manufacturing process, the dilligence and awareness of the person mixing the colours and the careful refinement of each individual colour are decisive for the high quality and the yield of Lascaux products.
The keys to quality
Even the best ingredients can only fully develop their qualities if they are carefully and precisely processed. Lascaux invests a lot in the choice of raw materials and in the composition of the colour formulas. But we devote at least as much time and attention to the refinement of our colours.
These physical processes begin immediately after the colours are mixed, which at Lascaux, by the way, is done in small batches - also for reasons of quality. In addition to the gentle mechanical finishing of the paint, leaving it to rest for several days is also part of the refinement process. In this way, we ensure that Lascaux colours retain their lightfastness, colour intensity and homogeneity for many years.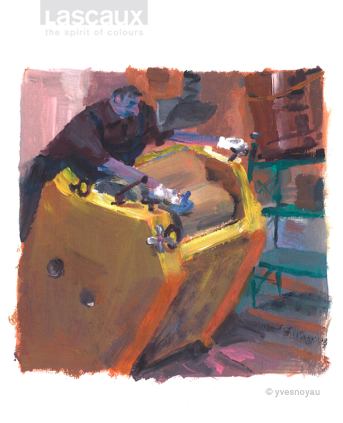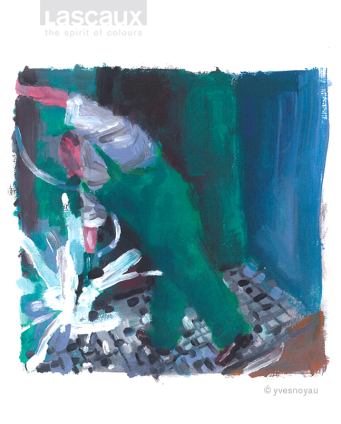 Sustainable, consistent, timeless
Lascaux's innovation is to be constant. Our product philosophy is focused on a consistent and timeless range of the highest quality. Our aim is to raise people's awareness of the richness of colour, to inspire them and to invigorate creative expression and a sense of beauty. For us, sustainability means producing paints and mediums with a long life and high yield.
Our strongest commitment is to ensure that our range remains unchanged over time and that our customers receive a consistent, high-quality product for years to come. These qualities are essential for artists, designers and everyone who paints. We can guarantee this continuity because we manufacture everything under our roof.
The consequence is a modular assortment that is clearly structured and deliberately concise. It consists of colours and painting mediums that can be used and combined in a variety of ways. This benefits the environment because we can process the ingredients to optimum.
The Lascaux bottle
Thanks to the inventive spirit of our company founder the squirt bottle has found its way into artists' paints: for the first time in 1964 with Lascaux Gouache, which was a true innovation. The practical bottle with the iconic cap has been further developed several times since then and has been an unique Lascaux trademark for many years. Even today, the filling into the bottles and tubes is done in-house and in careful manual work.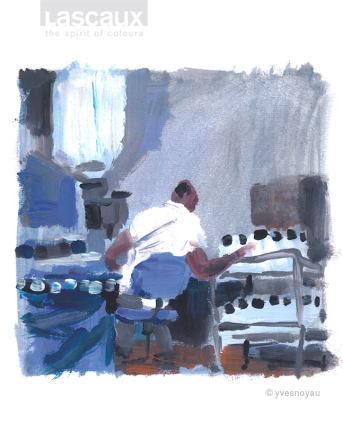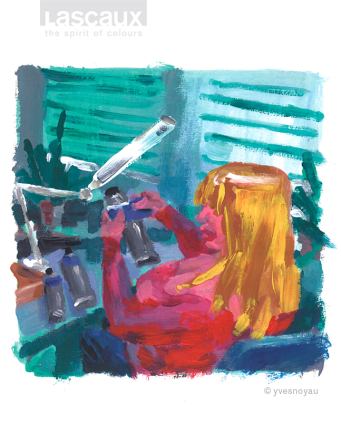 The value of handicraft
Our commitment to quality does not end with the bottled product, but determines all our work. Just as we do with customer service and technical support, we also strive for the clearest, most customer-friendly solution when providing information about our products. This often requires doing thins by hand.

A genuine colour swatch on each acrylic paint tube shows you the real content. All tubes are carefully labeled by hand. Our hand-painted colour charts for each Lascaux colour line let you experience the real luminosity and mattness level of our colours. The swatches are painted in our workshop, where we also manufacture application charts and sales support products for retailers.
Come and visit us! We offer company tours and a variety of events and presentations.