Lascaux Artist Metallics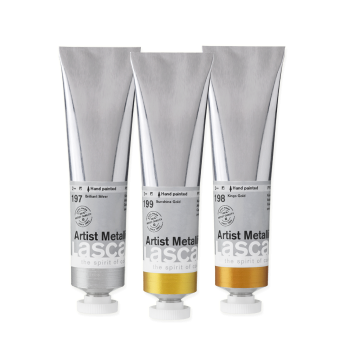 The colour palette includes the following hues:
Lascaux Artist Metallics are high quality impasto, shiny metallic acrylic colours. They produce unique colour and metallic lustre effects. Non-oxidising and weather-resistant, they can also be used outdoors.
Lascaux Artist Metallics posess a pastose, buttery consistency and can be diluted with water. These premium acrylic colours produce unique metallic lustre effects. Thanks to their non-oxidising mineral pigments they will not darken. The three metallic hues can be mixed among each other, or with glazing or semi-glazing Artist colours in order to create a range of diverse metallic hues. Glazings based on Artist Metallics yield particularly interesting effects. These colours are extremely lightfast and weather-resistant, and are also suitable for outdoor applications.
Properties
pastose, buttery texture

highly concentrated and extremely yielding
metallic shimmering

non-oxidising, not darkening
good opacity
optimal adhesion
lightfast, weather-resistant and non-yellowing
very good film flexibility
Use & application
for dramatic effects in art and decoration

for indoor and outdoor use

Product leaflet (pdf)
Lascaux Artist Metallics colour palette and information