Lascaux Decora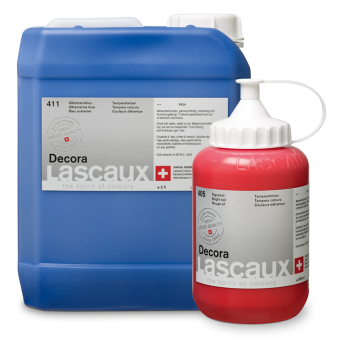 The colour palette includes the following hues:
Lascaux Decora is a ready-to-use gouache paint, distinguished by its intensity and opacity. It comprises 18 hues, designed for decoration, art class and studio work.
Lascaux Decora can be used straight from the bottle for maximum opacity, or diluted with water in order to create glazes. It dries to yield a satin matt finish. This paint registers excellent adhesion to all absorbent supports. The Decora colours are water-soluble when dry but can be painted over without dry layers dissolving into the fresh application. The ready-to-use Lascaux Decora is more fluid than Lascaux Gouache and thus particularly suited for art classes on all levels, but also for decoration purposes as well as scenic painting.
Properties
high opacity
fluid, highly pigmented and economical
even satin finish
can be partially dissolved after drying

can be painted over without dissolving previously applied layers
lightfast, age-resistant and non-yellowing
carefully balanced, constant colour palette

Use & application
school and art classes at all levels and ages
decoration and professional scenic painting
Product leaflet (pdf)
Lascaux Decora colour palette and information