Lascaux Gouache primary colours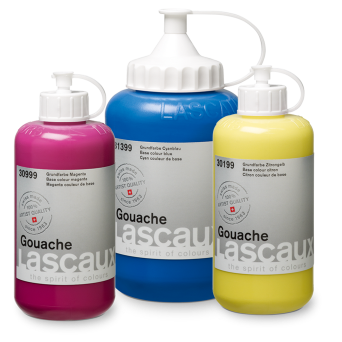 The colour palette includes the following hues:
Lascaux Gouache primary colours are three highly concentrated colours with adapted opacity – for schools and art education as well as for art and design.
Lascaux Gouache primary colours are highly opaque, colour intense and brilliant. They have adapted opacity which is fundamental to mixing pure hues.
With their thick and smooth consistency, these colours need to be diluted with water before use. Even highly diluted Lascaux Gouache colours will retain their brilliance and intensity.
The colours dry to yield a satin finish and remain water-soluble. A fresh application can be painted over previous layers without them being dissolved. Lascaux Gouache demonstrates excellent adhesion properties on almost any absorbent surface.
Properties
viscous and highly yielding (diluting with water is recommended)
luminous, with high opacity

consistent satin finish

excellent miscibility

can be partially dissolved after drying

can be painted over without dissolving previously applied layers

lightfast, age-resistant and non-yellowing

adhesion on almost every surface
Use & application
education and art class
art and design
indoor use only
Product leaflet (pdf)
Lascaux Gouache colour palette and information