Lascaux Neon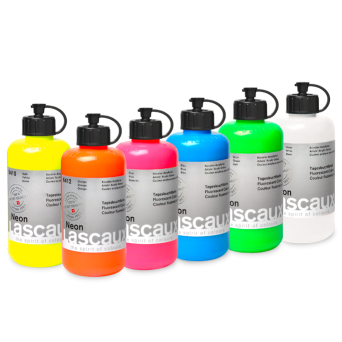 The colour palette includes the following hues:
Lascaux Neon are highly intense semi-opaque fluorescent colours that respond to UV light.
New: Neon White.
Lascaux Neon fluorescent colours are characterised by their intense luminance. They contain special pigments serveing as optical brighteners. Under black light (UV light) this unique property shows itself as a highly effective glow. Mixed among each other, Lascaux Neon colours retain their intensity. The most powerful luminescence is achieved by priming the surface with Lascaux Studio Titanium white or painting directly on paper containing optical brighteners.
Due to their fluorescent pigments, Lascaux Neon are less opaque and lightfast.
Properties
intense and powerful even when diluted
fluorescent glow under UV-light
semi-opaque and matt

water-resistant
excellent adhesion

extremely yielding
limited lightfastness
Use & application
best effects on white surfaces or in combination with black light
for dramatic effects in art and decoration (indoors)
Product leaflet (pdf)
Lascaux Neon colour palette and information