Lascaux Sirius® watercolours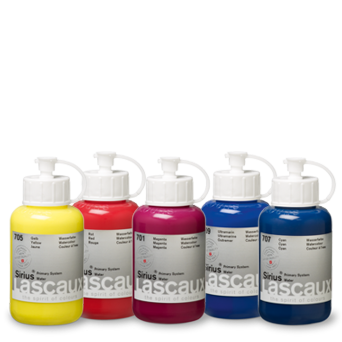 The colour palette includes the following hues:
Lascaux Sirius® acrylic colours are of utmost purity and intensity. These five primary colours allow the mixing of more than 78 000 pure and harmonious hues.
Among each other, Lascaux Sirius primary colours are in perfect balance: the purity of the colours is retained even when lightened with Sirius white or darkened with the neutral Sirius black. As a result, more than 78 000 diverse and harmonic hues can be created, and the purity and the chroma of the colours always remain intact. Thus, the Sirius Primary System offers a complete colour range using only five colours. Mixed in equal amounts, the five colours produce a deep, vibrant black.
Properties
luminous, pure, transparent

semi-matt finish, water-soluble when dry
mixed hues retain maximum purity and chroma
neutral black when mixed in equal amounts

lightfast and age-resistant

Use & application
for indoor use only
art, decoration and screen printing
art education
creative school lessons and art therapy
colour theory

Product leaflet (pdf)
Lascaux Sirius Primary System colour palette and information
Learn in this video how easy it is to mix colours applying the drop system
How to create different skin tones using Sirius primary colours
Purple, blue, green, gold - creating landscapes with Sirius primary colours