Lascaux Crystal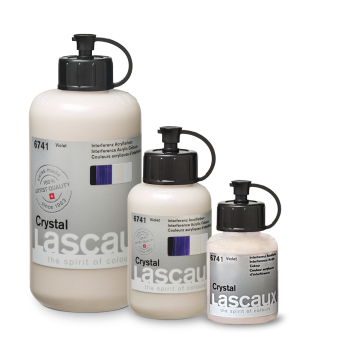 The colour palette includes the following hues:
Lascaux Crystal interference colours demonstrate incomparable brilliance. On light backgrounds the colours shift to the comple-mentary shade, while against dark backgrounds the principal shade appears as a gloss colour.
Lascaux Crystal is an iridescent effect colour with incomparable brilliance, suitable for art and architecture. These strong, luminous colours can be mixed among each other, enhancing colour depth and allowing for a broad range of different hues. The iridescent effect is strongest on matt surfaces. Lascaux Crystal is very economical as even the thinnest application produces the full effect. Use sparingly.
Properties
high colouristic intensity and depth
satin finish with iridescent lustre
highly yielding
transparent
excellent intermixing properties
water-resistant, excellent adhesion
lightfast and age-resistant
Use & application
art, interior design and architecture
wherever iridescent colour effects are desired

in combination with special illumination concepts
Product leaflet (pdf)
Lascaux Crystal colour palette and information