Lascaux Studio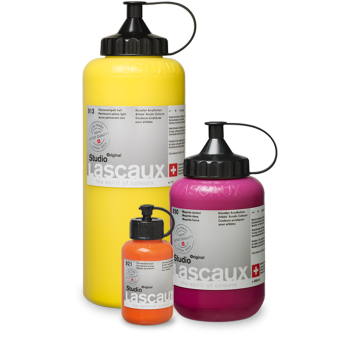 The colour palette includes the following hues:
Lascaux Studio Original is the highly concentrated, intense and completely versatile premium artists' colour suited for all painting techniques. It can be used for large-scale works as well as for outdoor applications.
The 54 hues of Lascaux Studio are of the highest quality ("extra fine") and carefully balanced among each other. They are designed for excellent mixing properties. These flagship colours can be used for all painting techniques and are perfectly suited for outdoor use. Lascaux Studio dry to an opaque, even satin matt finish. These luminous colours retain their intensity and brilliance even in strong dilutions. Thanks to their spreadability and their homogenous consistency, Lascaux Studio colours are particularly suited for large-scale formats and monochrome works. These colours are absolutely lightfast and resistant to weather. Lascaux guarantees an indefinitely constant colour palette.
Properties
viscous, concentrated and highly yielding
54 intensive and luminous hues
excellent miscibility, highly versatile
opaque, with even semi-matt finish
lightfast, weather-resistant, non-ageing and non-yellowing
very good film flexibility
carefully balanced, constant colour palette

Use & application
for all painting techniques (including airbrush and screen printing)
suitable for outdoor use
art, design and decoration
ideal for large surfaces, murals, architecture
Product leaflet (pdf)
Lascaux Studio colour palette and information
Lascaux Studio Original –
acrylic artists' colour and a tour of Lucerne