Lascaux Studio Bronze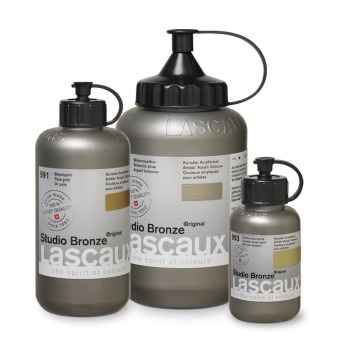 The colour palette includes the following hues:
Lascaux Studio Bronze is a range of shimmering bronze colours for use in design, decoration and architecture. They are also suited for outdoor applications.
These eight brilliant bronze colours made from pure, non-oxidising metallic pigments are lightfast and have a distinct metallic shine. Lascaux Studio Bronze can be diluted with water and dry to yield a waterproof, flexible and satin matt finish. The colours can be used for large-scale works and for architectural interior and exterior design. When exposed to weather, we recommend a protective coating with Lascaux Transparent Varnish UV.
Properties
viscous, smooth and soft

highly concentrated and extremely yielding
contain genuine metal alloys
lightfast and non-darkening
high opacity
semi-matt and water-resistant finish
shelf life: two years
Use & application
art, design, decoration
interior design, architecture
ideal for frames
suitable for outdoor application
Product leaflet (pdf)
Lascaux Studio Bronze colour palette and information