Lascaux Artist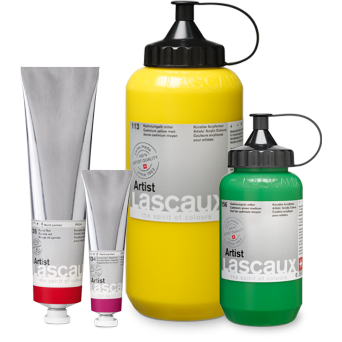 The colour palette includes the following hues:
Lascaux Artist is a pastose artists' acrylic colour of the highest quality. It comprises 54 carefully balanced hues, rangeing from opaque to transparent depending on the pigment.
Lascaux Artist is particularly luminous, and intense and offering high colour depth. and economical, Lascaux Artist shows a smooth and thick consistency very similar to classic oil paints. The carefully balanced assortment allows the mixing of virtually every imaginable shade. All 54 hues provide excellent lightfastness and dry to form an even, semi-matt finish, with minimal shrinkage. The dry film remains flexible and does not crack even when layers are thick. Lascaux Artist is weather-resistant and thus suited for outdoor application.
Properties
pastose, buttery texture

luminous, intensive, high colour depth

maximum pigmentation, highly concentrated and very economical

consistent semi-matt finish

opacity: from transparent to opaque

lightfast, weather-resistant, age-resistant and non-yellowing

very good film flexibility

minimum shrinkage

carefully balanced, constant colour palette
Use & application
art, design and decoration
suitable for outdoor application
Product leaflet (pdf)
Lascaux Artist colour palette and information
Innenräume der Rems-Murr-Klinik in Winnenden (DE)

"The Zurich Project" von Sol LeWitt