Lascaux Serigrafia screenprinting colours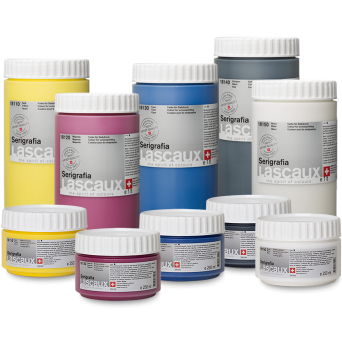 The colour palette includes the following hues:
Lascaux Serigrafia are five pure, highly concentrated colours for water-based screenprinting.
Now also in 250ml!
Serigrafia is Lascaux's new water-based and solvent-free screenprinting paint for art and decorative design. These pure, highly pigmented and lightfast acrylic colours have a buttery consistence and offer a long open time on the mesh. The satin, ready-to-use Lascaux Serigrafia colours are intense and show excellent mixability and strong opacity.
Serigrafia can be mixed with Lascaux Screenprinting Paste or diluted with water.
Go to:
Screenprinting paste, mesh mediums
Properties
viscous and highly concentrated
luminous, with maximum opacity

consistent satin finish

excellent miscibility

water-based and solvent-free
lightfast, age-resistant and non-yellowing



Use & application
Product leaflet (pdf)