Lascaux Jubiläum
25. October 2023
Little Suns united

Kindermuseum Creaviva, Bern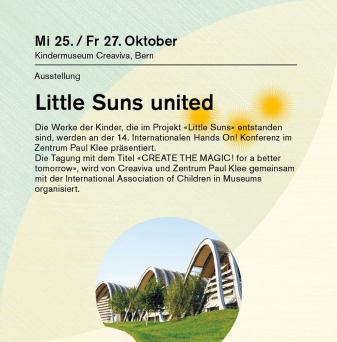 Ausstellung
Die Werke der Kinder, die im Projekt «Little Suns» entstanden sind, werden an der 14. Internationalen Hands On! Konferenz im Zentrum Paul Klee präsentiert.
Die Tagung mit dem Titel «CREATE THE MAGIC! for a better tomorrow», wird von Creaviva und Zentrum Paul Klee gemeinsam mit der International Association of Children in Museums organisiert.
Event details
German
Wednesday, 25/10/23
Zeit: 00:00–00:00
Thank you for registering.
We will send you a confirmation soon.